What is the Google Snack Pack?
The google snack pack appears at the top of a google search that has local intent and includes a small number of local business listings.
The current version of the snack pack only shows 3 results on desktop and mobile.
For local businesses this is the most valuable realestate on the internet and getting into the snack pack (and being removed from the snack pack) can have a major influence on how much business you receive from online.
The Google Snack Pack is also referred to as the Google Local Pack or the Local 3 Pack.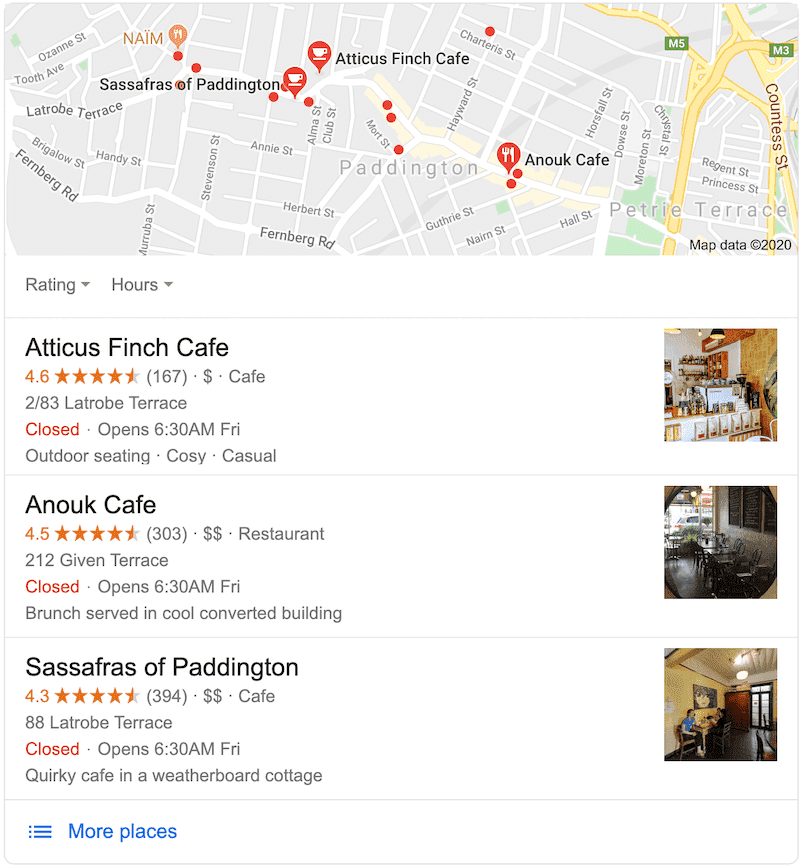 A Google Snack Pack entry tends to include:
👉 Business Name
👉 The rating and number of reviews on Google My Business
👉 The street address
👉 An indication of cost
👉 The main business type of the business
👉 Whether the business is currently open or closed and when it will open
👉 A photo thumbnail
👉 A short description or list of amenities
How to get into the Google Snack Pack
If your business is not currently in the snack pack for keywords that are important to your business then one of your most effective strategies to increase business online is to optimize your business so you appear as high as possible in the snack pack.
To increase your ranking in Google Maps so that you appear in the top 3 you should focus on the following:
👉 Create high quality and consistent citations on services with high authority for your business.
👉 Get a reasonable number of good but natural online reviews on your Google My Business listing and across the internet.
👉 Generate high quality backlinks to your website.
👉 Optimise your Google My Business listing to ensure it is complete and correct with good content like photos and posts.
History of the Google Snack Pack
The Google Snack Pack was originally called the Local Pack and was released in 2008 with 10 results. This was reduced to 7 results in 2009.
Due to the move to mobile first results on Google 3 entries was the optimal amount of results and in 2015 google started to show 3 results on desktop and mobile and this is when the name "Snack Pack" became prominent.
Related Pages: